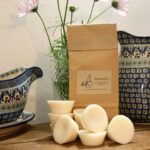 Nutcracker Wax Melt (Bag of 10)
£11.00
Description
If you've had our Christmas Cake melts in the past, then you will recognise this scent. An irresistible combination of sweet, creamy custard poured over warm Christmas cake, made with walnuts, roasted chestnuts and packed full of mixed spice.
Made with Rapeseed and Coconut wax, this melt should supply you with reliable scent for at least 12 hours.
Also available individually or in bags of 4.
Always place your wax burner on a heat proof surface and keep away from children and pets.